Information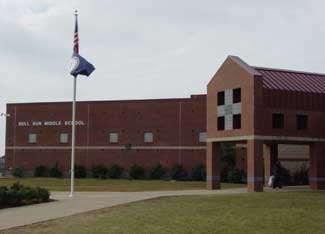 Bull Run Middle School
6308 Catharpin Rd.
Gainesville, VA 20155

Bull Run Middle School Website
Phone: 703-753-9969
Date Opened: September 2002
Principal: Matthew Phythian

Assistant Principals: Lisa Vega and Moneka Coats
Number of Students: 1090
Number of teachers: 90
School Colors: Forest Green and Gold
School Mascot: The Eagle
About Bull Run Middle School
Bull Run Middle School opened to students in the Fall of 2002 and has grown to become one of the top
6-8 schools in Prince William County and Virginia. Bull Run has been named a"School of Excellence" five times by the Prince William County Public Schools, a "Blue Ribbon School" by the Virginia Music Educators Association, and is currently designated as a "Recognized ASCA Model Program" by the American School Counselors Association and a "School to Watch" by the National Middle School Association.

Every member of the Bull Run Middle School staff makes it a priority to help each child read, write, speak, and think at continually higher levels.
Communities Served
Catharpin, Gainesville, Haymarket and Manassas.
Enrichment Programs & Extracurricular Activities
Bull Run Middle School provides a variety of activities that help students find new ways to achieve socially, emotionally and academically including opportunities for eligible students to participate in help sessions during and after school. Other extracurricular activities include interscholastic boys and girls sports and a variety of after-school social clubs and programs.
Opportunities for Parent & Community Involvement
Bull Run has a Principal's Advisory Council, Parent-Teacher-Student Organization (PTSO), and welcomes parent volunteers.
What Makes Our School Unique?
The school uses a series of research-based practices to help students develop the most important skills to their future success, namely the ability to read, write, speak, and think at continually higher levels. These practices include the use of clear viable learning goals, structured lessons, authentic literacy, and social, emotional, and behavioral support in the form of incentives, recognition, behavior analysis and support, adult mentoring, peer teaching, and individual and group counseling.